Lawrence Park Dental Testimonials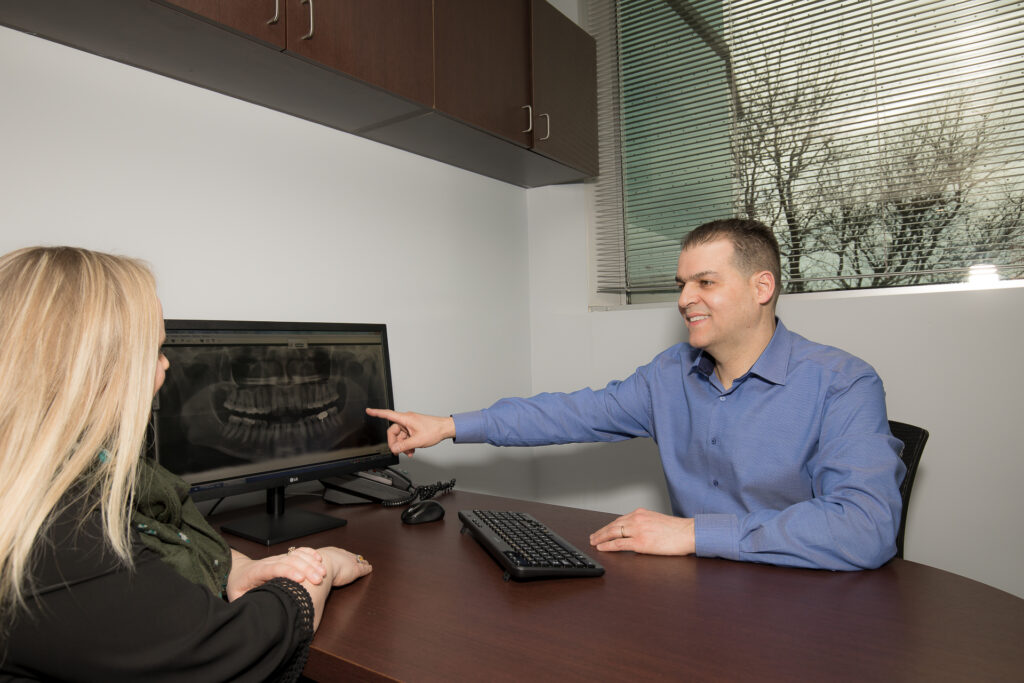 "I think the best way to measure the professional performance of a dental team is to ask one main question, "Would you recommend this dentist to your friends?"
Everyone has had a bad experience, harbours a fear or is resistant in someway to dental care. 
My brother, for example was terrified of dental work and sadly had not maintained appropriate oral hygiene. That would be all the more reason to avoid and avoid and avoid. He met with the team at Dr. Queiroz's office and experienced respect and calm, particularly letting the conversation evolve sufficiently to open up his fears. Subsequently, successful oral care began. 
Unequivocally, I have made a number of recommendations to friends and family regarding the practice of Dr. Queiroz. 
Dr. Queiroz and I met years ago. My late dentist was both personable and professional. 
Through dialogue and understanding I became most confident about the well qualified advice and intervention of Dr. Queiroz. His planning is long term and not simple patch work in design. While one sits in the chair, he listens and makes decisions accordingly. I trust him implicitly. His knowledge, ongoing professional development and respect for his patients puts him in a league beyond others. 
He and his team are personable, kind and caring. 
If you can enjoy going to the dentist, despite some discomfort, you know you are in good hands. "
LINDA
"I have known Dr. Queiroz since he began his practice in Lawrence Park. He is both professional and personable and I believe he genuinely cares. I always get a call after a lengthy procedure and that truly matters. He is the real deal and he treats his staff with respect and care."
KATHERINE
"When I first arrived as a new patient at Lawrence Park Dental I was nervous as I had had to switch dentists after 50 years with another. I needn't have worried one bit. The staff are all caring and professional from the moment you walk in the door. Dr. Queiroz is a fine dentist with up to date knowledge and equipment and I couldn't find a better and more caring hygienist in Patricia. If you are considering a change, look not further than Lawrence Park Dental."
SHELAGH
"My experience at Dr Queiroz has always been great!
He is an excellent dentist, explains everything thoroughly and gives you options as to your treatment. He also refers you to the best specialists when necessary. I have had many treatments and was surprised when he called the same day or next to check on how I was feeling!
Our whole family, daughters, husband and now grandchildren go to Dr Queiroz— we were all patients of Dr Brown the previous owner.
I took my grandkids since they were toddlers and now they are 13 and 18 they go on their own! 
Patricia is an excellent hygienist and I look forward to my appointments with her as do my family.
Overall going to the dentist is seeing a well run, friendly, helpful office with on time appointments."
NANCY
"My family and I have been with Dr Queiroz since 2011. What I can say is that at Lawrence Park Dental they have the best dentistry team ever. Dr Queiroz is an exceptional professional, very knowledgeable and kind dentist, not to mention the super effective team that works with him. Every time we needed to see him in an emergency basis, we could get an appointment right away. My husband had a root canal, tooth extraction and another surgical procedure with him in the past, and everything went smoothly, pain free and the results were great. We always do our cleaning with Fernanda, who is also exceptional Dental Hygienist. But, the best part is that, I also bring both of my kids there since they were babies. My kids simply love to go there. They have over head TV for the kids, a small play area, new tooth brushes for every visit (they love to choose their favourite) and at the end, they get to get a prize in the treasure box. Going to the dentist to my kids is a synonym of fun. They are amazing with kids, and with the entire family. The reception team and all the staff are really courteous. They always have complimentary coffee/tea which might not seem much, but I like it. The wait time is always very short. They usually get me in within a few minutes of my appointment time. Being a busy mom and professional, that really means a lot. I recommend Lawrence Park Dental to everyone. I have a couple of family of friends that go there and they love it too."  
LEANDRA
"I would like to thank Dr. Queiroz for all the great services provided by him and all his staff. My family and I are very grateful for the attention, dedication and concern for all of us during all our visits and follow ups over the past 18 years. Even now, living in another municipality and having to deal with the increasingly chaotic traffic in this city, we still wish to remain as clients of Lawrence Dental Park."
MAGALI