12 Key Benefits of Dental Implants
Thinking about getting a dental implant? Dental implants replace damaged tooth roots and stop the progressive bone loss associated with a premature tooth loss. They fuse with bone, becoming a permanent replacement for a missing or severely damaged tooth.
They come with notable advantages over bridges and dentures. Read on to discover the benefits of dental implants and all the essential things you need to know about them.
Benefits of Dental Implants
1. No Discomfort
Dental implants (DI) are easy to get used to. DI fuse with your bone so that they really feel like a part of you. DI are not uncomfortable like dentures, which even when carefully made can still feel a bit foreign.
2. Enable Normal Speech
Unlike many dentures, DI are fixed and won't slip or move when you speak. DI will also fit better. DI will enable you to speak as you did when you had all your natural teeth.
3. Better Appearance
DI closely resemble your teeth so that you will feel confident about your smile. If past dental problems affected your confidence, DI can restore it.
4. Work the Same Way As Your Teeth
DI look good but feel good too. DI enable you to chew without pain. DI work like your natural teeth so you can enjoy all your favorite foods without worrying that your replacement teeth can't handle peanuts or crispbread.
5. Little to No Pain in Most Cases
Unlike other dental procedures, getting a DI is not usually painful. It's certainly less uncomfortable than having a tooth extracted. Your dentist may perform local anesthesia so that you feel comfortable during the procedure.
6. Not Embarrassing at All
Having to use denture adhesives or to remove your dentures can be unpleasant and embarrassing. It may make you feel uncomfortable in certain social situations. With DI you don't have to worry about any of that. DI are there to stay, and temporary removal and cleaning are not necessary.
7. Can Last a Lifetime
Good quality DI are made to last. If you look after them as you look after your normal teeth, DI can stay with you for decades, even a lifetime.
8. Better Oral Health
DI enable you to preserve healthy surrounding teeth, which don't need to be altered in any way. At the same time, they fill the gaps left by missing teeth, reducing the risk of gum damage or infections.
9. High Success Rate
DI have a high success rate, meaning you won't have to visit your dentist very often for adjustments, fixes, or replacements. DI are a long-term solution for people of all ages.
10. Suitable for Most
Having healthy gums is often enough to get DI. Your dentist will evaluate your condition before the procedure and discuss any concerns.
11. May Be Covered by Insurance
Standard dental insurance doesn't typically cover DI. However, depending on the cause of the tooth loss and your insurance plan, you may be able to receive coverage for DI.
If you're considering getting a DI, it's worth checking coverage options with your insurance company.
12. Personalized Procedure
DI are not a one-size-fits-all procedure. Your dentist will create a personalized plan for you that will prepare you for the surgery. The first step will be the tooth root implant, which will require up to twelve weeks to heal.
After the implant has fused with your jawbone, your dentist will add a connector post and create a tooth based on your tooth profile.
Benefits of Dental Implants – The Wrap Up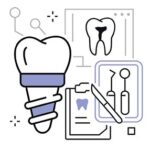 Dental implants are convenient, made to look like your teeth, durable, and comfortable. It's the only way to stop the progressing bone loss that follows once you loose a tooth. For many people, they are the best solution to replacing a missing tooth. Getting a dental implant is a straightforward procedure, so you have little to worry about.
Lawrence Park Dental in North York
If you have any questions, regarding the benefits of dental implants, please contact call us at 416-488-7454 or use our convenient contact form below. Dr. Queiroz and the team at Lawrence Park Dental will be more than happy to assist you.